Gardening Blog
A Complete User Guide to Neem Oil Benefits for Garden
by Saru Kaushish on Feb 28, 2023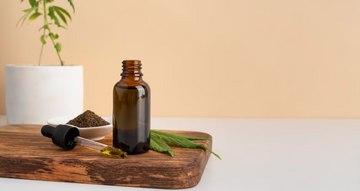 Neem has been known to be a magical herb for ages. If you are unaware of the benefits of neem oil for your garden, we will acquaint you with some of them. Undoubtedly, neem oil is one of the best organic pesticides for plants. 
If you are into gardening, here are some excellent benefits of neem oil that you must know about:
Eco-Friendly and Biodegradable
Unlike inorganic pesticides, neem oil, a natural pesticide, doesn't contaminate water bodies. Neem oil for plants is the safest pest management option one can opt for, as it causes no harm to the environment and is biodegradable. The residues of neem oil favor the soil environment as well. 
Favourable for Beneficial Insects and a Great Nematicide
Inorganic or chemical pesticides kill all the insects that come in contact with them. 
However, neem oil isn't harmful to non-targeted or beneficial insects, such as ladybugs, bees, and butterflies. Neem oil is not harmful to earthworms as well, making it garden-friendly.
Neem oilnot only destroys insect pests but is also an efficient nematicide, and it kills nematodes making it a handy option for various classes of pests. Moreover, neem oil also keeps mosquitos at bay.
Serves as a Versatile Organic Pesticide
Organic cold pressed neem oil is the most versatile pest control option in your garden space. It can be used on various plants, from ornamentals to vegetable crops and herbs, and this oil doesn't cause mortality and is used as a herbal pest control option. Neem oil can be used in pest control of almost all species of plants and at all stages of pests lifecycle, like larvae, caterpillars, nymphs, and even adults.
No Harmful Effects for Insects
While using inorganic or chemical pesticides You might have observed that you need to increase the dosage after a few applications as the chemical under low concentrations is no longer effective. This happens because the consistent spraying of chemical pesticides causes the pest to develop resistance against the particular chemical concentration. Gardeners don't face this issue with neem oil. 
Neem Oil is a Great Fungicide and Bactericide
Apart from controlling pests, neem oil also controls diseases in plants to a certain extent. Both neem oil and neem cake powder for plants control fungal diseases, such as scabs, anthracnose, black tip, rusts, and leaf spots. They also act as bactericides by controlling bacterial plant diseases like fire blight and wilt.
How to Use Neem Oil for Your Gardening Needs?
Have you heard "Prevention is better than cure?". Neem oil is a prophylactic measure to prevent pests and diseases from keeping your plant healthy. Though neem oil is non-toxic, avoid using it on leafy greens at least a week before harvest.
Here is the right proportion to prepare ready-to-use neem oil formulation:
Water (unchlorinated and salt-free) - 1 liter

Neem oil (0.5 to 1 % concentration or 10000 ppm ) - 5 ml

Liquid soap - approximately 2 ml
(we have mentioned the proportion to make one liter of solutions, you can adjust the proportions as per your requirement). 
Note: First take water into the hand atomiser or sprayer and add neem oil using a dropper. Now, add an emulsifier (any common cleaning liquid or soap). Swirl it around or give it a gentle shake. Do not shake vigorously as it may cause air pockets in the sprayer and difficulty in spraying. 
How to Spray Neem oil?
Before spraying neem oil, always go for a patch test. You may not know the concentration every time. Always spray your neem oil on some leaves and wait for 24 hours if you are using this formulation for the first time. The burnt appearance of leaves indicates a high concentration of neem oil which you can dilute by adding water. If the patch of leaves is fine, voila!! You did everything right, and you can spray the entire garden or all your plants.
Do not use neem oil or any formulation on very young seedlings (less than 2 weeks old), as it may burn them. Never go spraying in the noon hours. The best time to spray any formulation, primarily through a foliar application (spraying on the leaves), is either in the early morning or evening.
Frequency of Application
The frequency of application depends on the severity of pests or diseases. Remember the thumb rule - 'You shouldn't spray neem oil more than once a week.' You can spray neem oil for plants twice a week only if the pest or disease infestation is very severe. Always use gloves while preparing the formulation, and avoid unnecessary contact of neem oil with your skin while spraying.
We gave our best insights on neem oil usage, and we hope you like this blog. Have a happy time Gardening!