Gardening Blog
PEBBLES - THE BEST GARDENING ADORNMENTS
by Saru Kaushish on Feb 21, 2023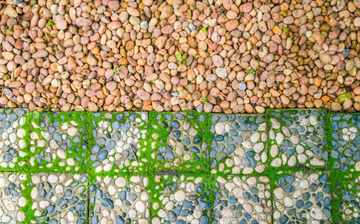 We all as kids used to play with stones and pebbles and we all might have collected beautiful stones and shells from sea coasts!! Feels Nostalgic right!!! Pebbles also serve as best gardening adornments. In this blog we will discuss clearly about the usage of pebbles in gardening.
Best plant decor components
Pebbles are beauties with benefits
Ensures good drainage
Can act as natural humidifier
Major components of landscaping
Best plant decor components
Pebbles for plants could add colourful vibes to your planters. Colourful pebbles placed around your plants surely get good glances from all your visitors. Pebbles serve as the best gardening adornment. They suit both indoor and outdoor gardening. They are the major components of terrariums. Pebbles can also add vibrance to your aquariums. These are long lasting and easy to clean.
Pebbles are beauties with benefits.
You read right!! Pebbles not only act as gardening adornments but they also have their own share of benefits. Pebbles, in fact, are garden essentials. Pebbles act as mulch. They conserve moisture and prevent soil erosion. Pebbles also prevent weed growth indirectly helping in your plant growth. Pebbles can go well with all the plants and they fit perfectly well in xerophytes like cacti.
Ensures good drainage
Pebbles also facilitate good drainage. Here is a plant care tip for you!! Adding stones or pebbles at the bottom of your plant, ensures drainage and provides good aeration. This also prevents root rot ensuring your plant health.
Acts as natural humidifier
If you are looking for natural humidifying options for your plants, pebble trays are the best solution. Here is how you can make a handy natural humidifier using pebbles.
Just take a tray which is larger than your planter in size and fill it with pebbles

Fill your pebble tray with water, the water level should be slightly less than the top of the pebbles.

Now place your planter on this tray. Water in the pebble tray slowly evaporates and increases humidity.
Major components of landscaping
Pebbles are not only indoor plant care essentials but also the major components of landscaping. They are placed around the trees and fountains to create aesthetic effect. Pebbles are also used in landscaping to create pathways and walkways. They are mostly used in underwater scaping and ground covering.
That's not the end!!! Pebbles are extremely handy options you must have in your home for making easy- peasy DIY crafts. We hope you got some best insights on pebbles usage in gardening through this blog. You can buy pebbles along with online pots for plants. Have a happy time gardening!!!