Gardening Blog
Here Is Why We Suggest Terracotta Planters For Your Plants
by Saru Kaushish on Feb 21, 2023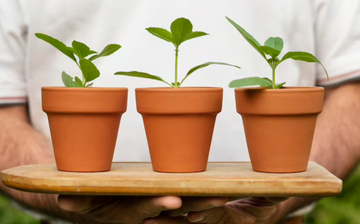 Terracotta is a clay-based earthenware substrate used to make pots, art crafts and planters. Generally, terracotta is unglazed. There might be plenty of planter options available in the market, you would be wondering which is the best? For us it's always terracotta. In this blog, we would let you know why we suggest terracotta planters and why terracotta could be your best choice to grow your plant buddies.
Terracotta is cost-effective

Eco-friendly and biodegradable

Natural watering indicator

Long lasting 

Helps your plants to breathe

Provides quick drainage
Terracotta is cost effective
Yes, terracotta is cost effective and available at low price when compared to the ceramic and plastic planters. Terracotta is completely indigenous and you could help small vendors and terracotta artists indirectly, everytime you choose terracotta. Now-a-days, terracotta garden pots are available in various sizes and shapes which could match all your planter needs. 
Eco-friendly 
What can be the best option other than growing your plant babies in all natural planters? Terracotta is obtained from natural clay. Moreover, it helps us to combat the plastic pollution and could serve as the best eco-friendly alternative to plastic pots. Terracotta planters make your garden spaces completely plastic free and stand for sustainability.
Natural watering indicator
Yes!!! You read it right!! Terracotta is the best natural watering indicator. When moist, terracotta turns darker in colour and when it's dry it appears to be rusty red. By the external colour of terracotta planters, you could easily know whether your plants need water or not? The dark brown terracotta indicates that there is enough moisture for your plant and no  watering is needed. Rusty red terracotta indicates lack of moisture and you need to water your plants. Simple right?
Long lasting
Terracotta outdoor planters are long lasting when compared to other planters available in the market. As they are made up of fired clay, they could serve for several years making them an ideal choice for long term gardening plans. They age like fine wine, emitting those vintage classy vibes into your spaces.
Helps your plants to breathe
Terracotta is breathable. As we all know terracotta has pores. This porous nature of terracotta allows the movement of air facilitating aeration to your plants. Plants grown in terracotta are less susceptible to root diseases as there is the free movement of air in comparison to metal plant pots.
Provides quick drainage
Terracotta doesn't allow water to stagnate. It really provides quick drainage making it the perfect option for all varieties of plants. It is ideal for moisture intolerant plants like cacti and succulents. Terracotta also prevents diseases like root rot and collar rot  as the medium in the terracotta dries out quickly.
We hope that we have provided you with the detailed insights of terracotta through this blog. We will update you with other blogs soon!! Until then, Have a happy time gardening!!!