Gardening Blog
A Unique Garden Gift
by GOLDDUST- Rethink&Revive on May 25, 2022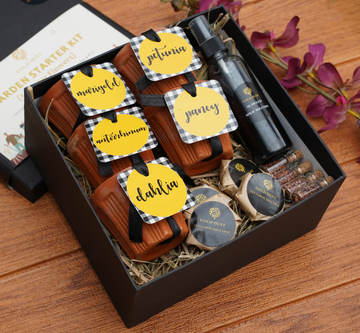 Instead of getting your loved ones another gift, get them a hobby instead! This garden kit makes a fantastic gift choice for men, women and children who have it all, and looking for a fun activity to experiment. Our grow kits are suitable for urban gardening, which makes them the perfect gift choice for anyone living in apartments. Popular present for Diwali, Raksha Bandhan, housewarmings, birthdays and holidays. You can take our word for it - they will love it!
The kit contains everything you need to get growing, comes in 3 varieties including
1. 5 types of Winter Veggies - Cabbage, Carrot, White Radish Chili and Tomato.
2. 5 types of Herbs - Coriander, Fenugreek, Chilly, Soya/Dill and Spinach 
3. 5 types of Winter Flowers - Petunia Mix, Pancy Mix, Antirrhinum, Marigold and  Dahlia Mix