Gardening Blog
Plant Stands- Your Call for Indoor Gardening
by GOLDDUST- Rethink and Revive on Nov 11, 2023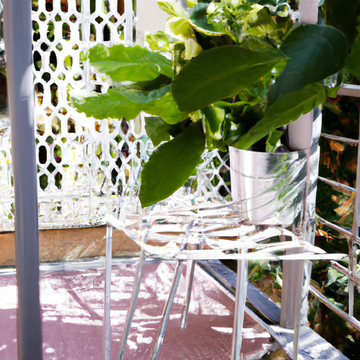 Introduction
Gardening is a fun and fulfilling activity, allowing you to connect with nature and find peace and solace while in it. The joy of taking care of your plants and watching them grow is just so wholesome. But with increasing urbanisation, the scope to practise traditional gardening is declining day by day. With the increase in apartments and flats, it has been much more challenging to have your own gardening space like it used to be before. But we don't have to worry much when we can have plant stands with us to accommodate our gardening needs without taking up much of your space indoors or outdoors! In this blog, we will be looking at how plant stands or garden stands can elevate your gardening experience and add to its overall aesthetic appeal.
Plant stands are a versatile way to display and flaunt your indoor plants. Let us look at some of the benefits of using plant stands.
Benefits of Using Plant Stands
Plant stands bring to your garden a range of perks, a few of them including:
Versatility
: 
Plant stands come in a wide range of styles, designs, shapes, colours and sizes to complement your preferences and needs. So, you can choose any type of garden stand that not only fits in well with your decor settings but also reflects your personal style and value for aesthetics. 
Space-optimisation
:
Plant stands can accommodate multiple plant pots efficiently without taking up too much space. This space-optimisation ability is especially beneficial if you have or are planning to have a lot of plants in your garden. Choosing tiered garden stands or corner plant stands is particularly recommended for saving up space.
Enhanced Visual Appeal:
Given the range of versatile options that come along with plant stands, it can change the entire look of your indoor or balcony space! They add a touch of novelty and freshness, creating an inviting and embracing ambience in any given space. Living room or office set-ups, balcony or kitchen areas, plant stands can instantly enhance the aesthetic appeal of your space just in a snap.
Some Tips to Choose the Right Plant Stand for Your Garden
First, just to clarify, regardless of which space or type of plants you have, you can choose any plant stands based on your preferences and needs. Here, we are just providing you with a minimal framework to assist you in your decision-making process. So here, below, are a few tips you could consider before buying a garden stand.
The size of the plant stands:
Ensure that the size of your plant stand is well-equipped to accommodate your plants. Maintain the balance! Make sure that the plant stand is large enough to fit in and support the weight of the planters and pots while also ensuring that the plant stand does not overpower the greens.
Materials Used in the Making:
Plant stands are available in various materials, including wood, metal, plastic, ceramic, etc. You can choose the suitable material for your gardening needs based on what complements the background space decor and suits your personal preferences for garden stands.
Aesthetics and Appeal:
The versatility of plant stands does not limit it to one aesthetic style. You can find different themes and styles of garden stands, from minimalistic and modern to traditional and extravagant. So, choose a style that matches the overall aesthetics and ambience of your living space.
Pricing and Budget:
You can check out the plant stands available on our page to explore different price ranges and choose the ones that fit well within your budget. Our products are assuredly cost-efficient and thus ensure quality at every step.
Some additional tips to Use Plant Stands
You can use plant stands to create a focal point in your living space by placing a fancy-looking tall plant stand in the corner of the room to draw attention to it.
Try using your plant stands as a cover-up for lower-height furniture. You can use them to add height and interest to your space, especially if your furniture is mostly low-lying.
Cleaning of Plant Stands
Clean your plant stands regularly to prevent debris, dirt accumulation or further mould development. This is not just to ensure the appeal of the plant stand or garden but is also another way to prevent the spread of pests and diseases.
Conclusion 
Plant stands are a great way to showcase your collection of indoor plants and enhance the visual aesthetic appeal of your living or working space. It is beautiful how, with gardening essentials like plant stands, we do not have to compromise on our personal gardening interests just because we can't have a designated area for the same. 
With plant stands, you can ensure a serene space for yourself that is filled with beauty and freshness. So, what is keeping you on hold? Check out the range of versatile plant stands available on our page to choose your personal favourite ones for your upcoming gardening endeavours. 
Have fun gardening:)